API 22" TCI drill bit, water well drilling rotary rock bits, tungsten carbide insert tricone roller bits


API 22" TCI drill bit, water well drilling rotary rock bits, tungsten carbide insert tricone roller bits

These tungsten carbide insert bits are used to drill soft formation with low compressive strength and high drill ability, such as shale, clay, sandstone and soft limestone, etc.

1. Tungsten carbide insert tooth, sealed and gage protection journal bearing,hardfaced head bearing surface. cone bearing inlaid with friction reducing alloy and then silver plated. the load capacity and seizure resistance of the bearing is greatly improved

2. O- ring seal is made of the more wear resistance high saturated buna-N with the section and precissely designed sealing flange in the cone sealing area increased the reliability of the seal.

3. The bit bearing is ball which can be applied to high rotary speed drilling.
4. All rubber compensator is used which can provides the bearing system with good assurance of lubrication
5. New type of grease that can sustain high temperature up to 250C is utilized.
6. High wear resistance and excellent cutting ability of the insert bit are given full play by using carbide compacts of high strength and high touhness in combination with optimized comjpact numbers and rows, the exposure height and special shaped compacts.
7. Meet strictly of API standard
8. Manufacturer of TCI tricone bits, steel tooth tricone bits and PDC bits
9. High quality, reasonable price and best service.
10. Delivery on time
11. Good feedback of the clients
12. Be used for water well, oil field, underground, construction, geothermal well,etc



Size Available:
From 3 7/8"(98.4mm) to 26"(660.4mm)

Note:
Sizes and types that are not shown above can be customized according to specific drilling requirements.


Benefits:

- Complete tool-change system can be replaced

- Individual components (drill bits) can be replaced

- Runs with minimal vibration thanks to optimised shape of tool-changer arms
- Larger free cut means reduced wear on the steering head
- Less wear on the tool-changer arms thanks to geometrically optimum shape of the components

- Big cost benefit from reusable components
- Excellent value for money

Roller bits are mainly divided into two types:
i) Metal sealed roller bits
ii) Rubber sealed roller bits

Metal sealed roller bits main applications:
a) Adopted high-speed bearing metal sealed technology, long working life under the screw drilling condition.
b) High efficiency cutting edge and structure to improve drilling speed.
c) Cutter shell self-protection shape to reduce abrasion of detritus and unbreakable rock.
d) Best choice for directional well, horizontal drainhole and horizontal branch wells.
| | |
| --- | --- |
| Size (inch) | Connection (API REG) |
| 5 7/8",6",6 1/2",6 3/4" | 3 1/2" |
| 7 7/8",8 1/2",8 3/4" | 4 1/2" |
| 9 1/2",9 5/8",9 7/8",12 1/4",12 1/2",13 1/8",13 5/8" | 6 5/8" |
| 16",17 1/2" | 7 5/8" |
Rubber sealed roller bits main applications:
a) Adopted new alloy welding technology to improve abrasion and working life.
b) Multiple gauge structure, weld trimming teeth on the edge to enhance gauge protection ability.
c) High precision with radial sliding, two thrust rubber sealed bearing and optimized anti-seizure ability to avoid bits peel off.
| | |
| --- | --- |
| Bit Size (inch) | Standard Pin Size (API REG) |
| 5 1/2",5 7/8",6",6 1/2",6 3/4" | 3 1/2" |
| 7 1/2",7 7/8",8 1/2",8 3/4" | 4 1/2" |
| 9 1/2",9 5/8",9 7/8",12 1/4",12 1/2",13 1/8",13 5/8" | 6 5/8" |
| 14 3/4",15",15 1/2",16",17 1/2",20",26" | 7 5/8" |
IADC Code

Formation Description

Rock Type

Compressive
Strength (Mpa)

Rate of drilling(m/h)

417/527

Medium soft:

Caly rock

50~75

5~15

Low compressive

Marlstone

strength and layered

Lignite,

soft to medium formations

sandstone

Siltstone

Anhydrite

Tuff

517/537

Medium:

Mud rock

75~100

2~6

High compressive strength

Limestone

and abrasive thin interbedded

Shaly

medium to hard formation

537/617

Medium hard:

Limestone

100~200

1.5~3

High compressive strength

Argillite

and medium abrasive hard

Anhydrite

and compact ground

Sandstone

Dolomite
Roller Bits Images: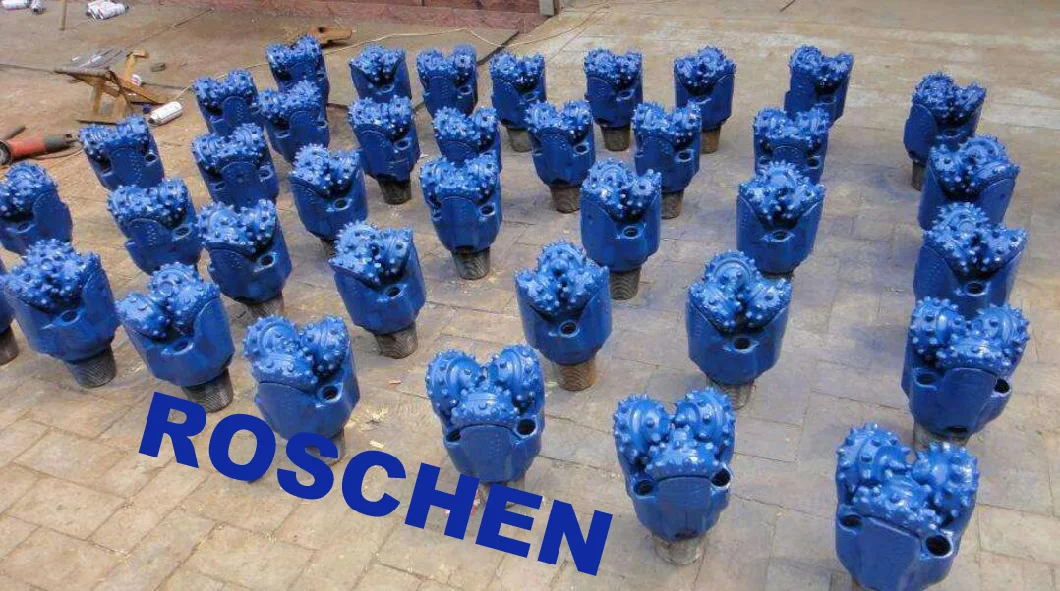 FAQ


Q: Are you a manufacturer or trading company?
A: We are a specialized manufacturer.

Q: How about the delivery terms?
1. Payment: T/T, L/C, Western Union, Paypal, 30% deposit in advance and rest before delivery.
2. Min. order quantity: 1 piece.
3. Transportation: By DHL/TNT/Fedex express, air, sea, train.

Q: How about discount?
A: Price is based on products and order quantity.

Q: Do you accept sample order?
A: Yes sure, please contact us for details.

Q: How about your after-sales service?
A: As a manufacturer, we offer promt technology support for all problems and questions. Besides, we accept goods return or replace for quality problem.

Q: How does your company control the quality?
A: Quality first. In order to guarantee high quality for our products, Roschen always makes a serious inspection for all products and raw materials in strict procedure. We have obtained certificate of ISO9001:2000 in 2004.








For more information please contact:



ROSCHEN INC.
ROSCHEN GROUP LIMITED
ROSCHEN HOLDINGS LIMITED



Website: http://roschen.en.made-in-china.com
; http://roschen.en.made-in-china.com
http://roschen.en.made-in-china.com