Orthopedic saw blades for oscillating saws/cutting saws
1.our advantage:
1. There is no MOQ.
2. Timely delivery.
3. Provide a comprehensive after-sales service system.
4. 24 hours online professional team, at any time provide professional answers.
5. There are a number of patented technologies, and the quality is guaranteed.
6. Two years free power drill saw handpiece technical support and six months free accessory support.
2.Features
1. Material
All of our surgical saw blades are made of high strength medical use stainless
Steel, very durable.
2. Application
Surgical saw blades are accessories for orthopedic cutting saws, widely used in trauma surgery.
3. Specification
Normal: 70mm, 90mm(effective length)
When your order quantity is more than 50 pieces, the customized specification is allowed.
4. Technique Merits
(1)High strength medical use stainless steel, sharp and durable
(2)Autoclavable, it can be sterilized up to 135 ° C
(3)All of our surgical instruments are CE&ISO approved.
5. Attention
(1)Sterilize temperature ≤ 135 ° C, if the temperature is over 135 ° C, the motor will be damaged.
(2) Normal bone drill can only hold drill bits less than 6mm, acetabulum reamering drill with big torque, rpm is around 400, canulate drill is used with nail or K wire, rpm is around 800.
(3)The battery need to be get out of the power tool after surgery. Otherwise the small automatic discharge of the electric will make the life of the battery short.
(4) The battery cannot be sterilized, it is not autoclavable.
(5)The cranial bur must be washed right after the surgery by purger in order to avoid the blood stick in the bur, then we should make it dry.
(6)The battery space in the handpiece of the tool should not have any water, after sterilization.
(7) The cranial bur blade is made of medical stainless steel, in order to avoid broken, so it is flexible and not very hard, it is easy to be attrite, we suggest each blade only use for 1 surgery.
We can supporting customized interfaces and sizes
RJ70X24X0.8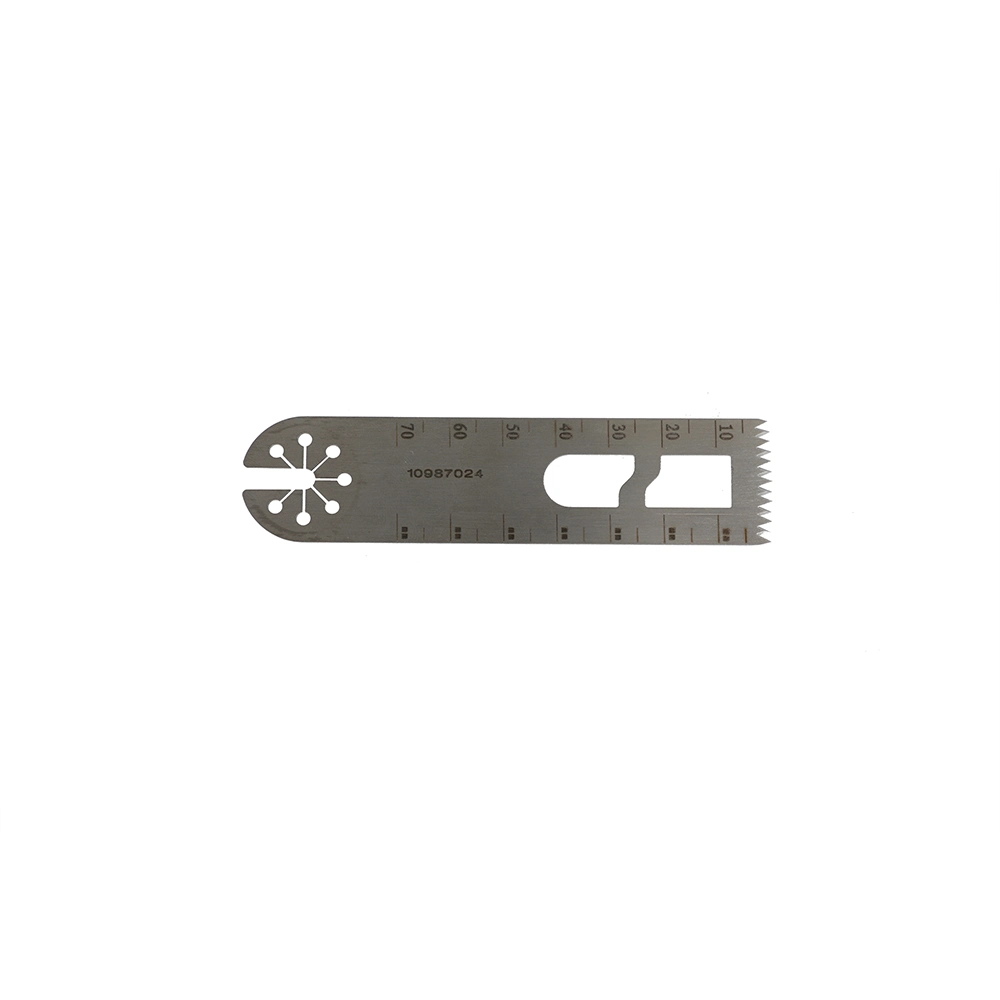 RJ90X22X1.0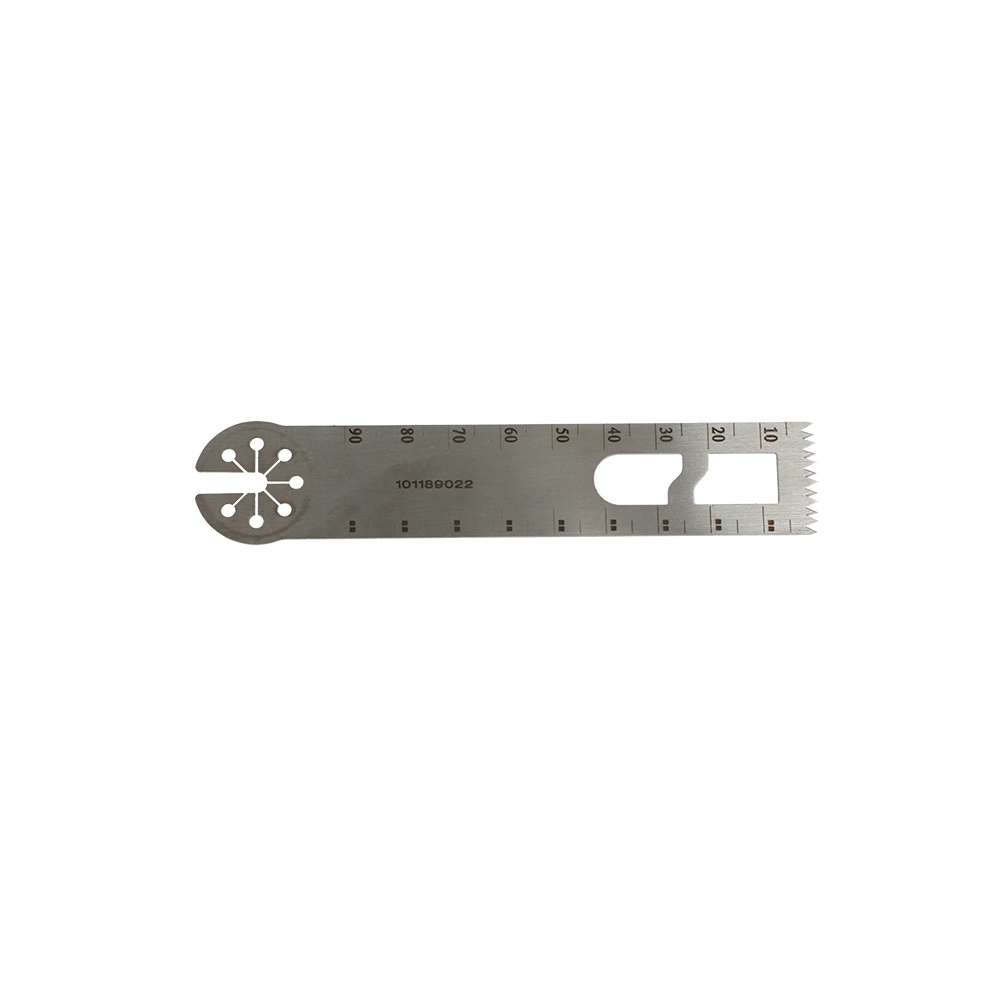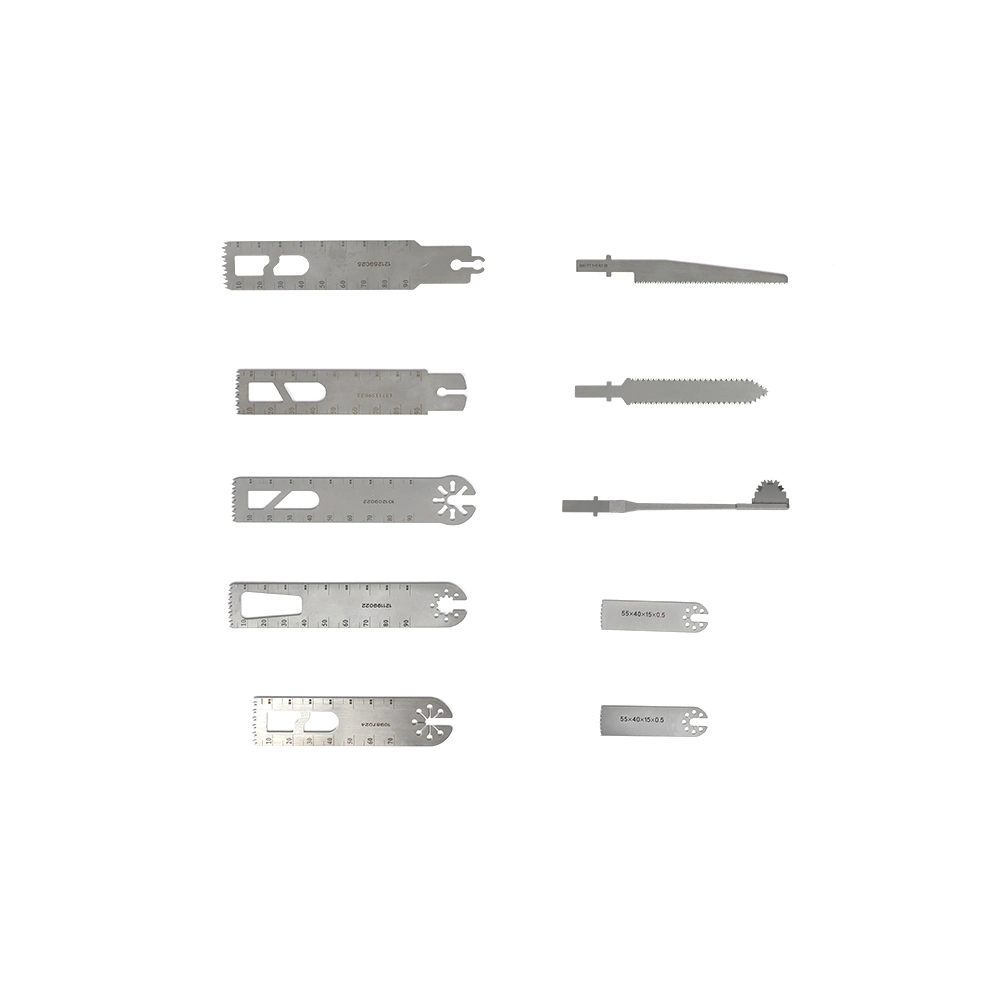 3. Certificate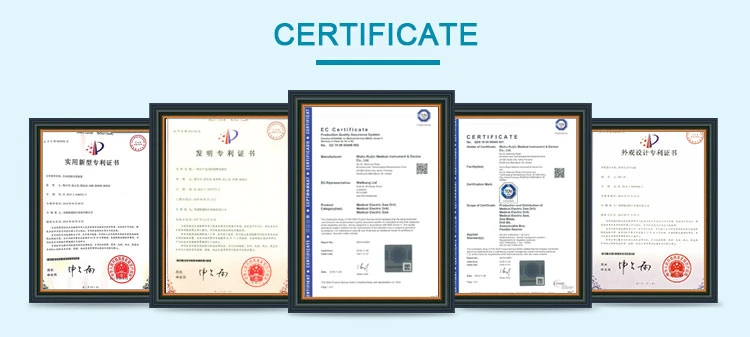 4.ABOUT US:
Wuhu Ruijin Medical Instrument & Device Co., Ltd.
Wuhu Ruijin Medical Instrument & Device Co., Ltd., established in 2007 and locates in Wuhu City, Anhui Province, China. We are a medical device manufacturer integrated with R&D, production and sales, focusing on medical drill series and micro medical electric drill series. Our main products include medical bone drill, multi-functional cannulated drill, oscillating saw, reciprocating saw, and medical electric plaster saw, which can be used in many surgeries such as Trauma Surgery, Thoracic Surgery, Joint Operation and Veterinary Orthopedic Surgery, etc.
Visiting our website: whruijin.en.made-in-china.com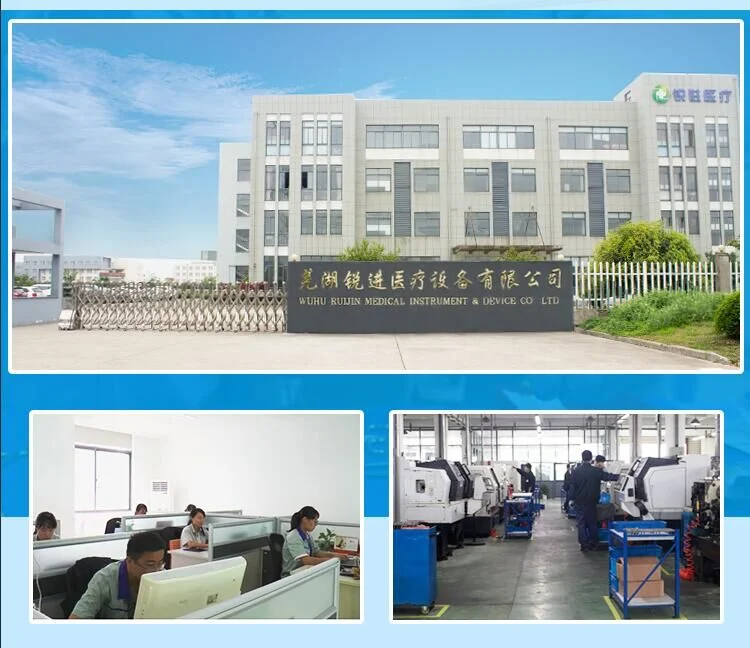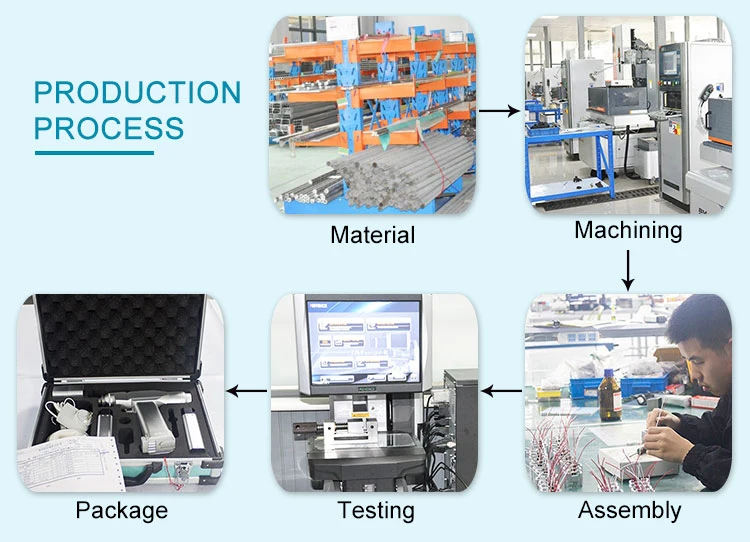 5. Payment & Delivery
I: Price: FOB $15~$25 / Piece, Shanghai Port.
Ii: MOQ: 1 Set.
Iii: Payment term: T/T IN ADVANCE OR WESTERN UNION.
Iv: Packing details: Aluminium alloy box and then put in a carton.
V: Delivery time: Immediately after receiving the payment.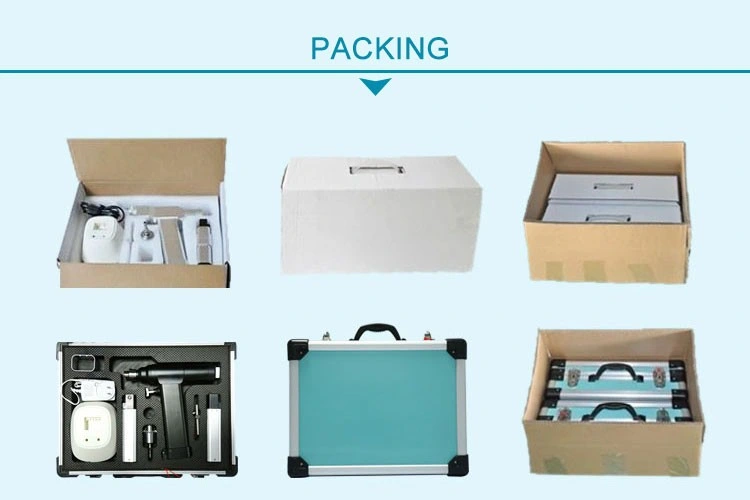 6.Ordering Process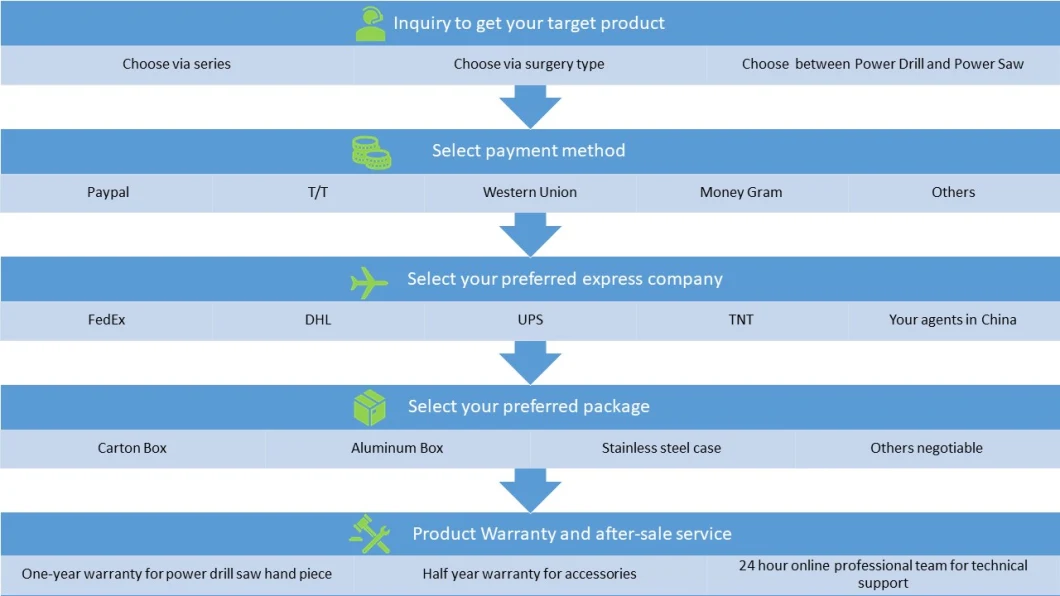 7. Attention & Notes
1. The device is forbidden to be demolished by non-professionals. If any
problem, please contact with us for after sales service.

2. Our products are chargeable, it can match for electricity source 110V60Hz-220V/50Hz.
3. The battery needs to be taken out of the machine's mobile phone, otherwise a small automatic discharge will shorten the battery life.
4.The battery cannot be disinfected. The battery space should be dry after sterilization.
5. Saw blade, the drill bit is cleaned with a purifier and kept dry after operation
6. The sterilization temperature is lower than 135 degrees Celsius. If it exceeds 135 degrees Celsius, the motor will be damaged.
7.Professional manufacturer with 24 hours online service, warranty offered, CE marked.
8: CONTACT US:
Wbsite:
whruijin.en.made-in-china.com
Address:No. 33 Wanchun Road, Wuhu, Auhui,China. 241000