300mm-800mm Diamond Brazed Cutting Disc Granite Saw Blade
Description:
The segment of blade is made of high strength diamond and excellent performance metal powder.After being cold pressed and sintered,the blade has better working lifespan.It mainly used for horizontal cutting of granite.The saw blade adopts thickened disc, which ensure the cutting process more stable.
This blade has good appearance and high ratio performance. Besides,it is outstanding for its perfect cutting performance and long working lifetime. After using the high quality saw blade,the production efficiency has been improved,the electricity has been saved and the production costs have been reduced .
Specification

Core Thickness

Segment Dimension

Segment Number

Application

Note

300mm

2.2/2.0

40× 3.2× 10(15)

21

Granite

Silent or
Non Silent

350mm

2.4/2.2

40× 3.2× 10(15)

24

400mm

2.8/2.4

40× 3.6× 10(15)

28

450mm

2.8/2.6

40× 3.8× 10(15)

32

500mm

3.2/2.8

40× 4.2× 10(15)

36

550mm

3.2/3.0

40× 4.2× 10(15)

38

600mm

3.6/3.2

40× 4.6× 10(15)

42

650mm

4.0/3.6

40× 5.0× 10(15)

46

700mm

4.0/3.8

40× 5.0× 10(15)

50

800mm

4.5/4.2

40× 6.0× 10(15)

57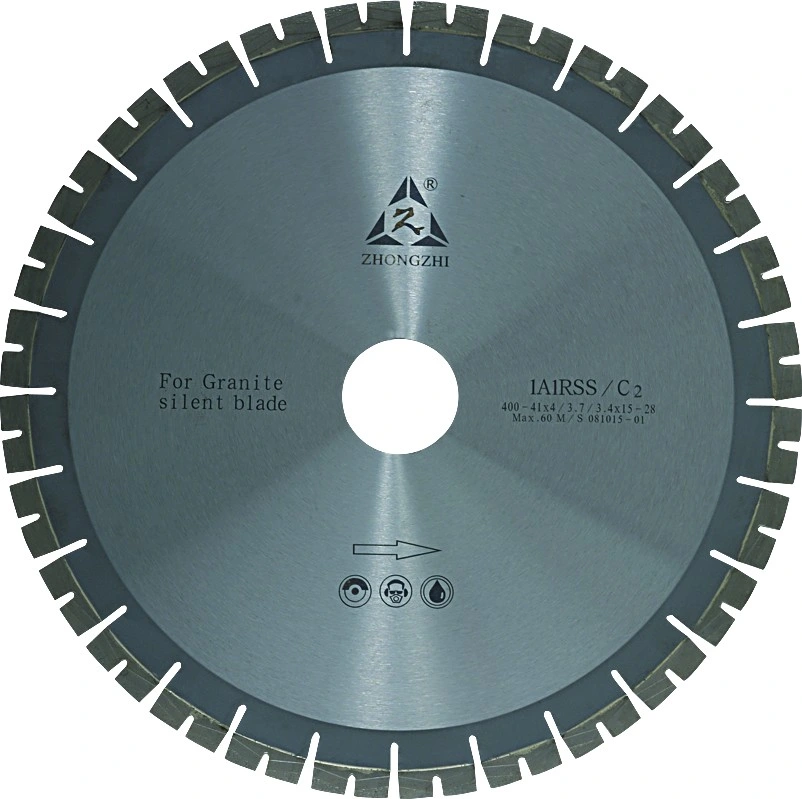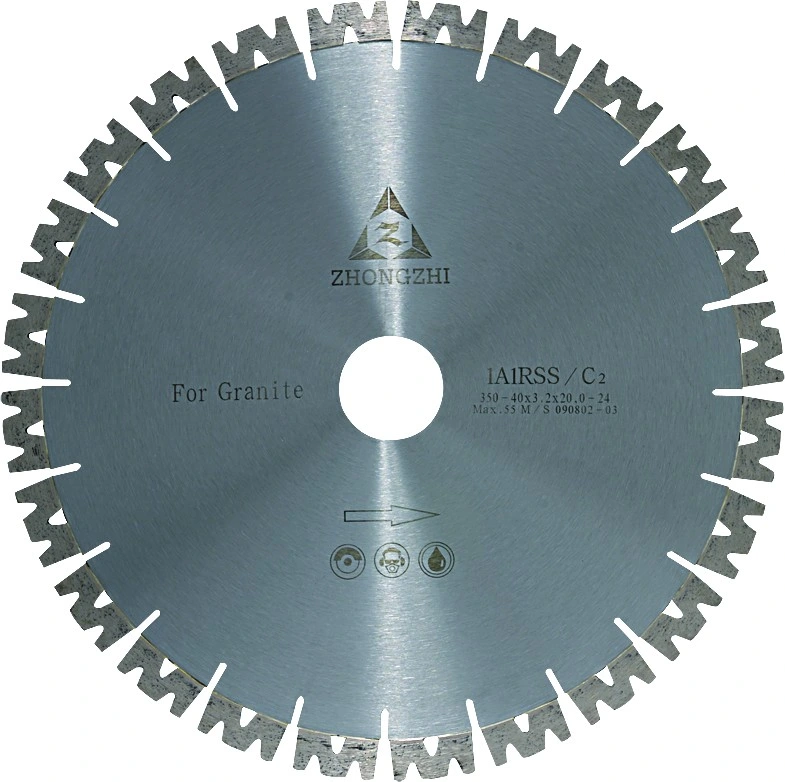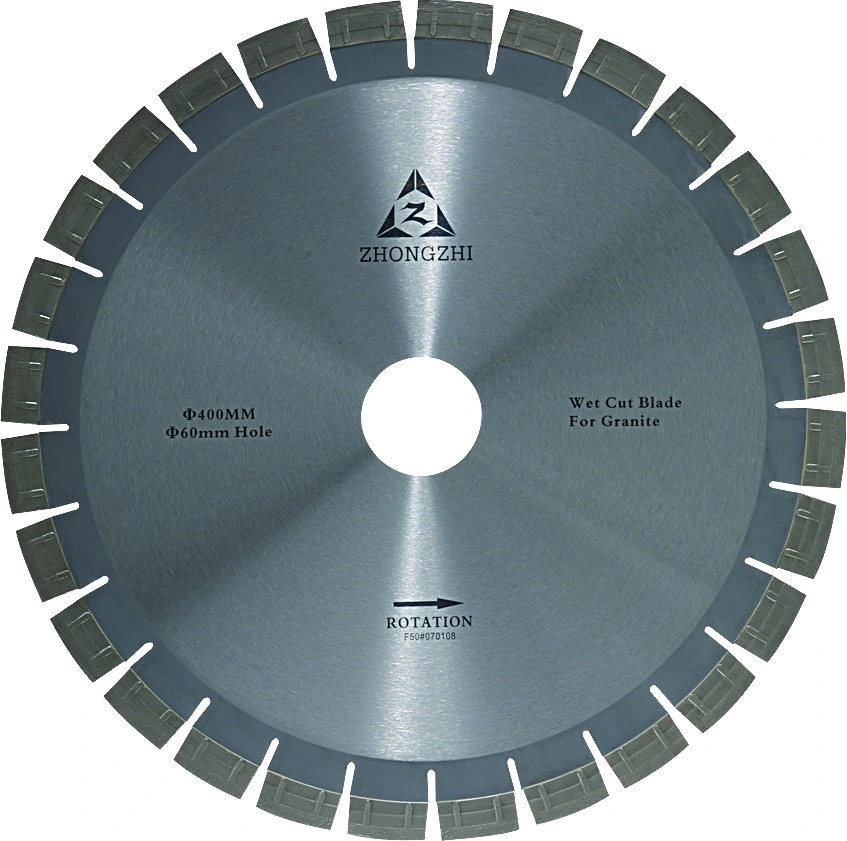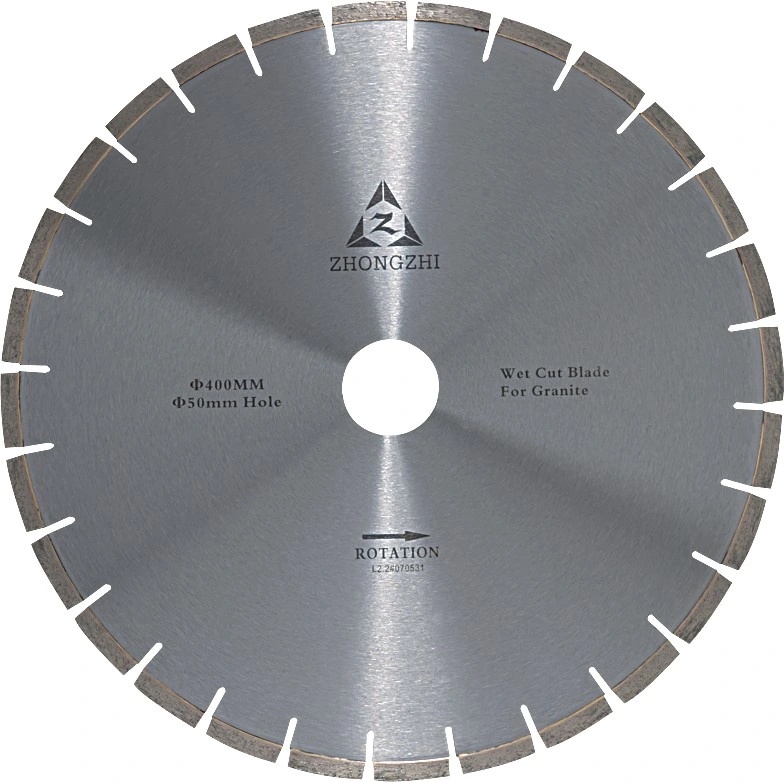 About Us
Quanzhou Zhongzhi New Material Technology Co.,Ltd.
ZHONGZHI was founded in 1989 started from stone diamond tools,we devote ourselves to researching and developing diamond tools in different functions for decades.ZHONGZHI,one of the biggest manufactures specialized in ceramic tools,including diamond roller,diamond squaring wheel,normal abrasives,diamond fickerts and so on.They are manufactured to global quality standards and our customers can easily take advantage of their customer-friendly prices and have a variety of specifications on the market.
Now our products has been widely used in more than 90 countries with excellent praise from our customers.
We are also:
TOP 10 OF CHINA DIAMOND TOOLS FOR STONE.

TOTAL FLOOR ARE OF 55333 SQM.

MORE THAN 30-YEAR DEVELOPMENT.

CHAIRMAN OF QUANZHOU DIAMOND TOOLS INDUSTRY ALLIANCE.
Address:Binshui Road,Huaqiao Economic Area,Shuangyang Town,Luojiang,Quanzhou,Fujian,China.
Website:zhongzhitools.en.made-in-china.com