Easy maintenance hot calcium carbides ultrasonic vibrating sieve (S4910b)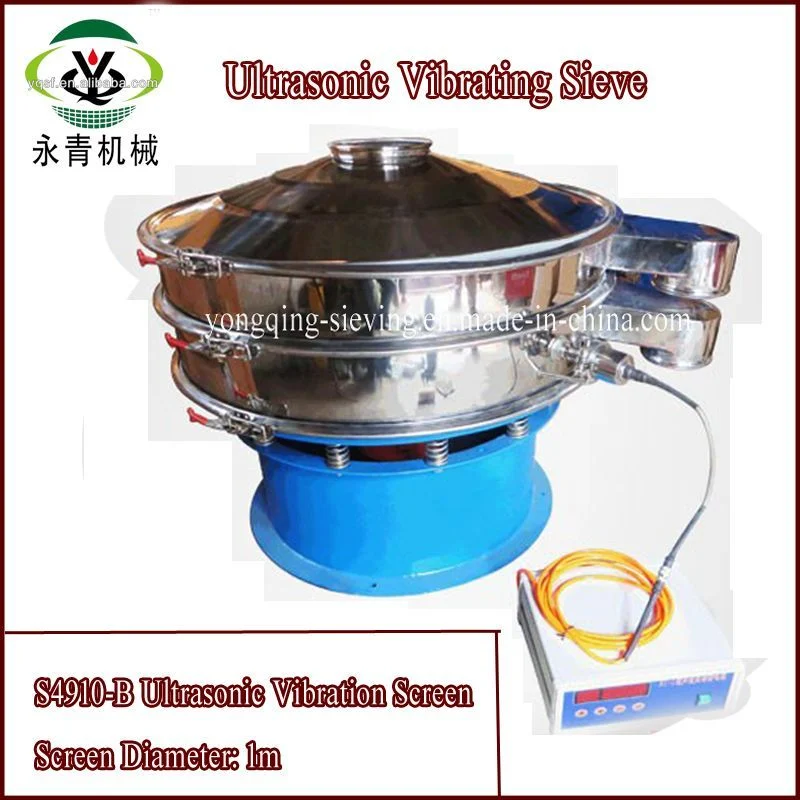 Introduction
S49 ultrasonic vibrating screen have adopted advanced techniques, is one kind of high sophisticated screening equipment. Ultrasonic vibrating screen consists of ultrasonic producer and vibrating screen. It's an important breakthrough in screening efficiency. This sieving machine adopts advanced intelligent vibrating ultrasonic controller and has solved many problems caused by single frequency, truly realizing the reasonable combination of ultrasonic function and vibration sieve. As to the functional feature, ultrasonic vibrating screen has reached the highest international level. It has prominent advantages In solving materials sieving problems such as high absorption, easy agglomeration, high static, high Precision degree, light weight etc.
Working Principle
The function principle of ultrasonic vibrating screen is adding an ultrasonic energy transform device on the screen surface of 3-D vibro separator and filter. This device can make the screen surface superpose ultrahigh frequency vibratory energy so that ultrasonic vibrating sieve can keep clear of the mesh and achieve the ideal screen situation. Ultrasonic vibrating screen is usually used in screening superfine powder, which the ordinary vibrating screen can not solved.
Features
1.
Can solve sieving difficulties such as high adsorption, easy clustering, high static, high precision,
h
igh density, light proportion, etc
.
2. Effectively control the sieving granularity scale
.
3. Realize the high precision sieving to achieve the best sieving effect
.
4. Screening precision can raise to 1
-
100%, the output can be raised to 0.5
-
10 times.
5.
Ultrasonic vibrating sieve
can be used with single layer or multilevel.
6. A set of intelligent ultrasonic generator can be used with three controllers at the same time.
7. Self-cleaning function; 0
-
500mesh sieving, no-blocking sieving mesh, stable sieving efficiency.
8. Keep processed materials feature stable.
Specifications Sheet
Model

S494-B

S496-B

S498-B

S4910-B

S4912-B

S4915-B

Diameter(mm)

430

654

800

950

1160

1500




Efficient Diameter

400

550

750

900

1110

1480

Net Specification

3

-

600 mesh

Layer

1

-

2

Power (kw)

0.25

0.25

0.55

0.75

1.1

1.5

Feeding size(

mm

)

<20

<20

<30

<30

<50

<50

Amplitude

1-10mm

Voltage

110V/220V/240V380V/450V or others,




50HZ or 60HZ

1440RPM




Single phase or three phase

Material

All stainless steel 304 or 316




Contac

t

part stainless steel 304




Carbon steel Q235A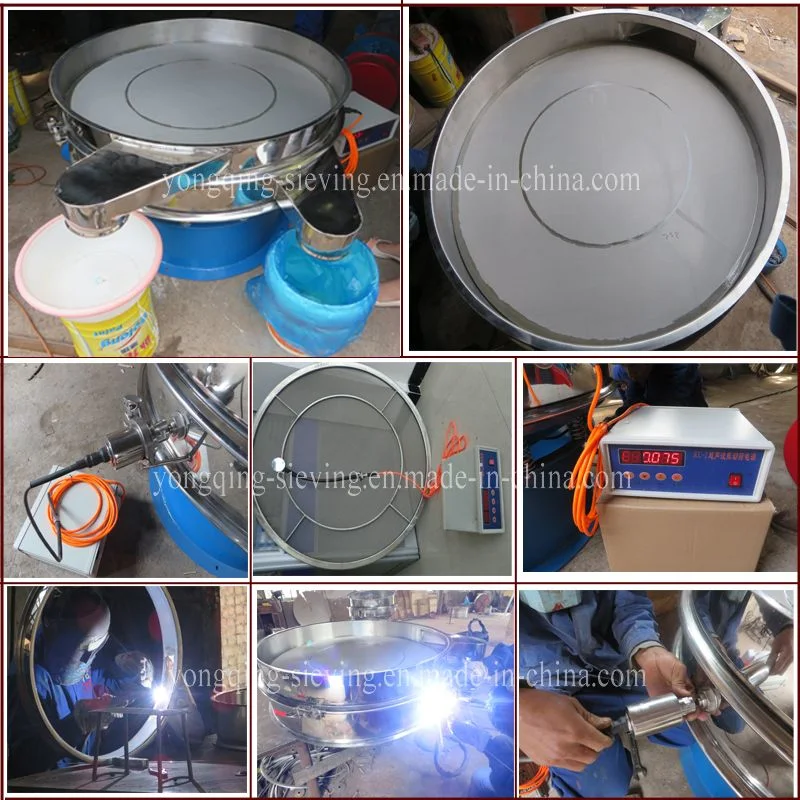 Application
1. Chemical industry:
Resin pigment, medicine, grease, paint, palette, etc.
2.
Abrasive material and ceramic industry:
Building sand, mica, alumina, abrasive, refractory material, slurry, etc.
3. Food industry:
Sugar, salt, alkali, gourmet powder, starch, milk powder, yeast powder, pollen, food additive, bean milk, juice, etc.
4. Paper-making industry:
Coated slurry, exhaust liquid, paper making liquid and waste water reclamation, etc.
5. Metallurgy and mining industry:
Quartz sand, ore, titanium oxide, zinc oxide, etc.
6. Mechanical industry:
Casting sand, powder metallurgy, electromagnetic material and metal powder, etc.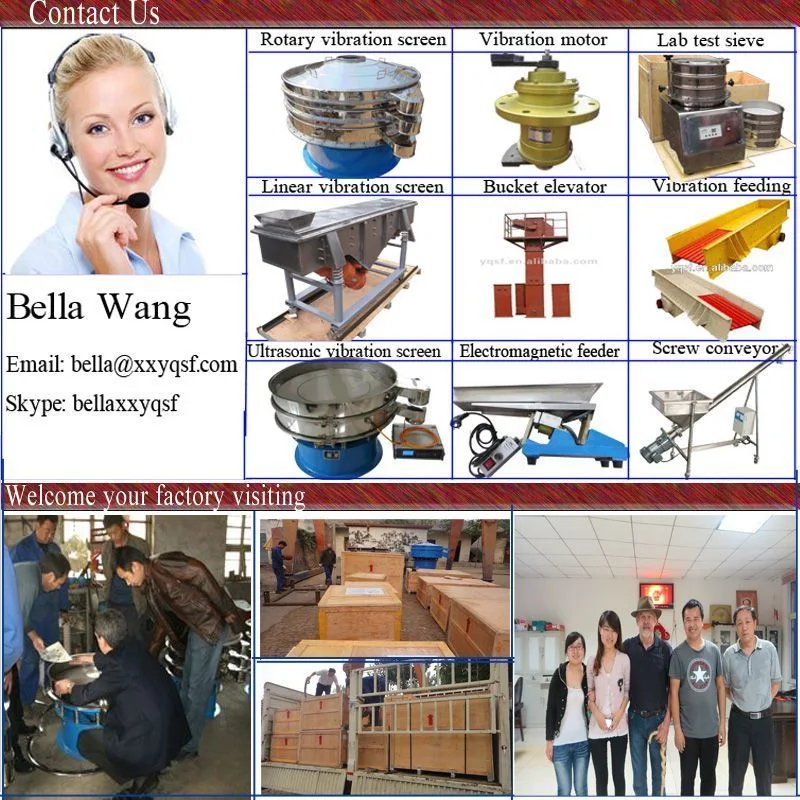 FAQ





Pls kindly provide the following information for a suitable vibrating screen model:


1. Your Usage?
2. Your required capacity(t/h)?
3. The machine material?
(All stainless steel 304, or contact part stainless steel 304 or carbon steel Q235A material)
4. The layers? (1-5 layers all available)
5. The sieve mesh size each layer (mm or mesh)?
6. The voltage? (220/240/380/415/450V are all available)
7. The FOB or CIF is needed and also the destination port?
8. Your special requirements?
Pls Feel Free to contact now...